Insulation Removal
Benji Studt
28 October 2023
I had All Thermo perform a comprehensive attic cleaning and replace the AC ductwork. They began by removing all the old insulation, sealing the attic floor to reduce air transfer, disinfecting the entire attic space, then replacing the old ductwork and finally installing chemical-free insulation. This has greatly enhanced our indoor air quality and led to a reduction in our FPL bill. Our home now feels entirely rejuvenated. This is the second time we've had All Thermo come help us…we also had them out to our old condo almost 10 years ago. Same staff and same great work. These guys exemplify the difference of hiring a small, family owned company that relies on word of mouth and personal referrals.
Christian Thibaut
23 October 2023
All Thermo performed AC ductwork sealing, attic air sealing and added new chemical-free attic insulation to my home. We have noticed our Air Conditioner running a lot less and a reduction in our FPL bill. I'd highly recommend this family owned & operated business!
Hi Jason. Just wanted to let you know… we just got a full months power bill since you installed the insulation and our power consumption went from 1,000 kWh the year prior to 425 kWh this month, with a higher average temperature outside. This is the lowest power bill we've had. Amazing result!!! Thank you!
Linda Jayne
27 September 2023
Very professional. Do what they say and clean up afterwards! Highly recommend them.
Madeline Vernese
26 August 2023
Jason and Christian were excellent to work with. They communicated to me throughout the entire process. A huge plus was both Jason and Christian arrived ON TIME. Their prices are very competitive with other insulation companies. Jason was able to answer all of my questions about the type of insulation they use and expected lifespan. No mess was made at all during installation. You couldn't even tell they were in my home when they were done. It's been three days since our house received ten inches of insulation over the existing 3-4 inches. It's been so nice to come home to a house that has been able to maintain its temperature! Previously our two year old AC could not keep up. It would be set to 75 and it would be 78 in the house during peak hours. Now when I come home it's 75 degrees inside as it should be. Our AC seems to be running much less. I'm looking forward to hopefully saving some money on my next electric bill.
Tim McLaughlin
18 August 2023
All Thermo responded promptly to my inquiry, did a good job on the added insulation. Recommend them to anyone who wants to beat the heat
denise thomas
11 August 2023
Buy a house they said... Lord have mercy it has been one thing after another, just when you think your are done, you get a kick in the pants! Dont get me started on the contractors here in Florida with poor response, poor workmanship and poor customer service, are you with me so far? Well the journey begins! Let me set this up for you. I put a new roof on approx. June 2022, hang on, I'm going someplace with this.! I have had 5 roof leaks! Yeah I said it, did I do a review on that company? No but it is coming you can count on it. So I thought putting in insulation in my attic would be good for the house and my AC unit. I called 2 companies-only one returned my call. Why only 2- I read the reviews. I did my research. The question is put the new insulation on top of the old or remove the old and than the new. I went with the latter one. Than I am hearing horror stories of feet, hands coming through the ceiling! I asked this company "does this happen?" Yes they said but not often they are very carful (I heard this before) I HAVE A STOMACHACHE! Well Jason (Scooter) who showed up, was very professional, knew what he was talking about, when I asked questions he explained everything  to me so I understood. Ok I thought this was too easy. Now Christian and the crew showed up (here it is-this is what I was waiting for) Nope Christian was a duplicate of Jason! WAIT WHAT...what is happening here? Work was completed in 2 days ! They cleaned up my garage, and driveway like no one was there! The work was perfect absolutely perfect! Tears of joy ladies and gentleman ! Tears of joy! I want to adopt this entire family! Yes this is a family owed business! Oh Ms Thomas you have a small roof leak! And there it is! Leak number 5. All Thermo & your staff I want to thank you so much for all your hard work, working in the attic with this heat. Are you hiring? Hire Them you WIIL NOT BE SORRY, tell them I sent you!
Ashleigh Bullivant
27 July 2023
Great company and awesome crew. Thank you!
Everything quick and efficient..from getting a quote, setting up appointment, to installation. Process clearly explained. No mess. Delighted with results. Wish I had done this ages ago. AC no longer struggling with this heat. Highly recommend.
Antael Dashanti
8 July 2023
How to Remove Insulation From Attic: The [Complete]Guide to attic insulation removal cost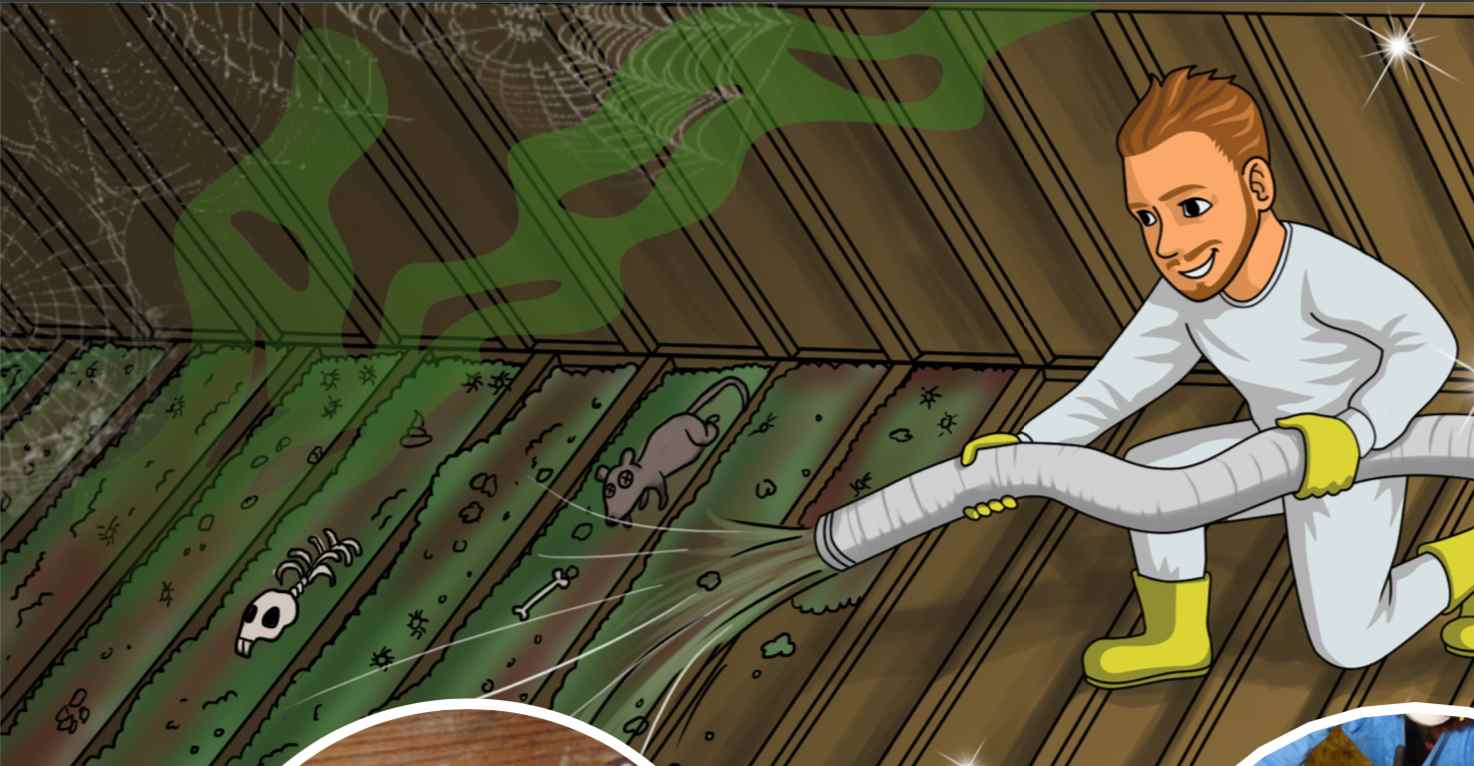 Introduction to Attic Insulation Removal
Understanding the Importance of Insulation Removal
We're here to guide you through the process of attic insulation. Just like decayed teeth, old insulation can be a nightmare for your home's maintenance. [Stat: Up to 50% of energy loss is due to poor attic insulation.]
Why Does Insulation Need to Be Removed?
Every so often, insulation needs removal. The culprits? Age, deterioration, or damage from water, pests, or mold. In some cases, hazardous types of insulation might endanger your [family's health]. Electricity bills climbing steeper than Everest? This could be due to poor insulation as well.
["We have embraced the 21st century by entering such cutting-edge industries as brick, carpet, insulation and paint. Try to control your excitement." – Warren Buffet]
Types of Insulation and Its Removal Methods
How to Remove Blown-In Insulation
With our step-by-step guide, removing blown-in insulation is like a walk in the park.
Set up your gear and equipment nearby for easy access.
Clear your path from the attic entry to the front door and cover it with a protective layer.
Get your ladder, commercial vacuum, and other tools ready in the attic.
Protective outfit on? Great! Start that vacuum and rake in that insulation into waste bags.
Repeat till every nook is insulation-free.
Dispose of the waste responsibly and clean the zone.
The result? A sparkling clean attic, safe and sound.
Fiberglass Batt Insulation Removal
Who knew removing fiberglass batt insulation could be this simple?
Put on your safety gear first, always!
Find the insulation edges with your trusty utility knife or scissors.
Cut the insulation into manageable chunks.
Pull it out gently to avoid unnecessary mess, collecting the clumps into plastic bags.
Tidy up the room from any lingering fibers or debris.
Essential tip: Old insulation is a fire hazard, dispose of it properly.
And voila, your attic is fiberglass insulation-free!

Vacuuming Cellulose Insulation Removal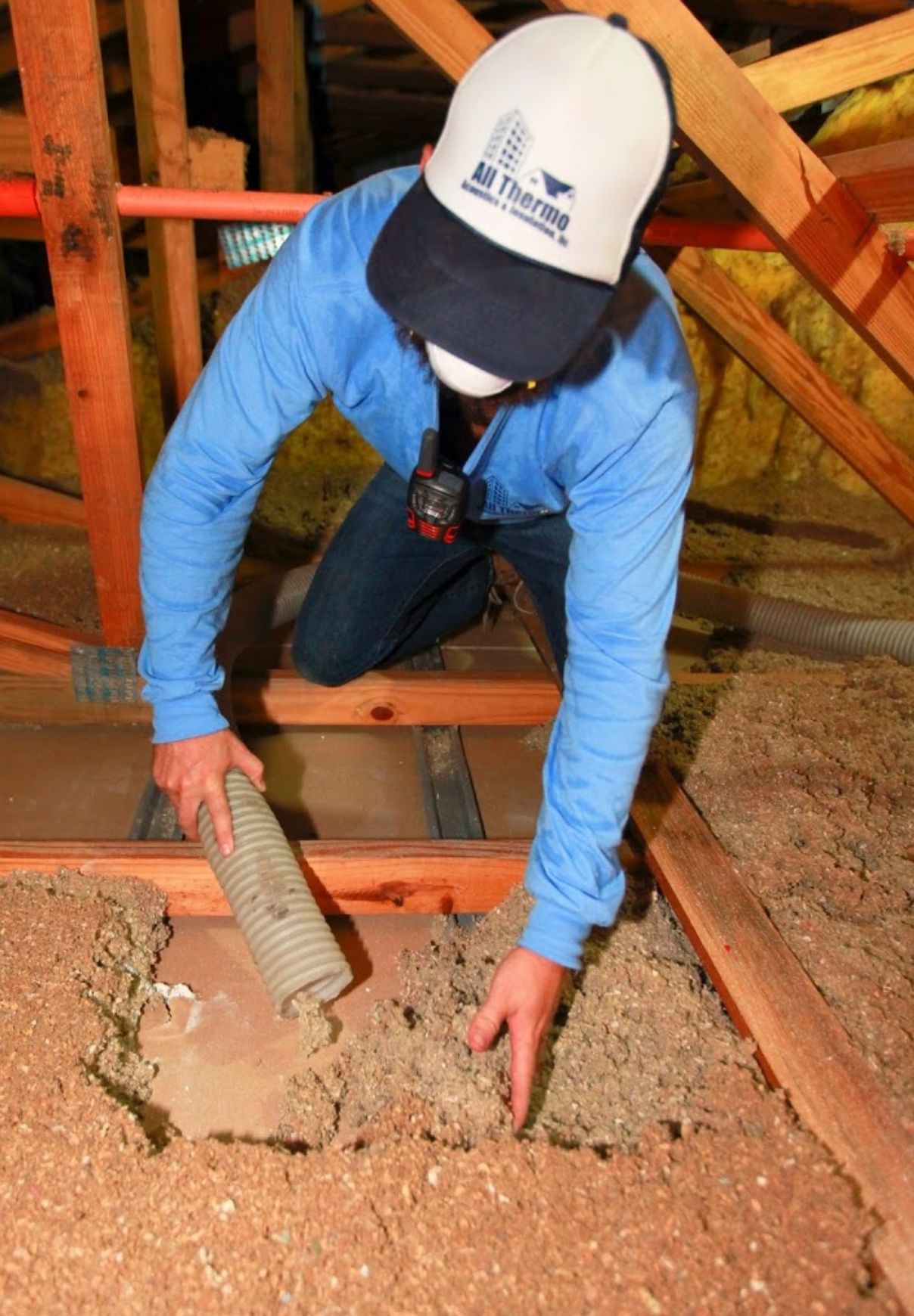 Got cellulose insulation stuck in your attic? Here's how to wave it goodbye:
Safety gear on! Don't forget your gloves, mask, and eyewear.
Turn on your deep-suction vacuum, and let it do the tough job.
Gather the cellulose into bags. Don't forget to squeeze out the excess air!
Discard the waste, giving your attic a vacuum once-over.
And, there you go! Your attic is free of cellulose. Remember how it looks! ["For more than four decades, we have effectively removed cellulose insulation and its harsh chemicals to provide homeowners with improved air quality.". – All Thermo]
Reasons for Insulation Removal
Removal Due to Hazardous Types of Insulation
What's scarier, ghost stories, or harmful insulation in your attic?
Some old houses are unlucky to have asbestos-based vermiculite insulation, which can spread airborne asbestos during removal. If your house was built before 1990, you might find carcinogens-laden Balsamic wool there too.
Fear not, professional help is available! They can test your attic and take necessary actions. Remember, your health is your wealth. Ask experts for help when in doubt.
Insulation Removal Due to Water Damage or Mold
When moisture sneaks into your insulation, mold promptly follows suit. This unwelcome guest can cause headaches and other health problems, not to mention it can wreck your insulation's function. [Fact: Mold in insulation can double energy loss.]
Similarly, water damage from leaks can cause mold growth or soggy insulation, which can then bring down the roof. So keep your eyes peeled for leaks or moldy patches. Safety and efficiency always come together.
Removal Due to Pest-Infested Insulation
Unwanted guests in your attic? Rodents, birds, insects—they're all notorious for turning insulation into a nest, a bathroom, or a buffet. Result? Contaminated and inefficient insulation that's bad for both your pocket and health. [Quote: "It's like living with an enemy in your own house." – John G. – West Palm Beach, FL]
If you spot droppings or nests, proceed with caution. Call in the experts to say goodbye to pests and tainted insulation.
Removal Due to Damaged or Sagged Ceilings
Can your house bear the weight of old, heavy insulation? Once your ceiling starts to sag or cracks visibly, it's a telltale sign that your insulation's gotta go.
Replacing the insulation and fixing the dented ceiling would save your house from possible structural damage or worse – an unwelcome collapse. [Statistic: 1 in every 50 homes experience serious structural damage due to neglected insulation.]
Remember, safety first, always. Don't overlook warning signs when they show up.
Safety Precautions During Insulation Removal
Suitable Protective Gear during Insulation Removal
Scared of attic bogeymen? Ward them off with your safety gear. This ensemble includes:
Gloves to fend off any harmful materials. The best? Rubber-coated ones.
A mask, ideally 95-rated, to keep your lungs dust-free.
Reliable eyewear to keep your eyes safe. Anti-fog coated goggles are a clear winner!
Definitely coveralls, to safeguard your skin, preferably hooded.
Don't forget a sturdy hat for your tall folks out there. Attics can be surprisingly low.
Lastly, a headlamp, because your hands are for work, not for holding flashlights.
With this arsenal, you're more than prepared to brave the attic.
How to Handle Hazardous Insulation Materials
Found a suspicious material in your attic? Don't play the guessing game. Undisturbed asbestos is harmless, but meddling with it spreads hazardous fibers.
Your first step? Air on the side of caution. Second, call in certified asbestos abatement professionals. Let us handle the risks, so you can rest easy.
Lastly, isolate the area and keep the kids and pets away. Remember, your safety is paramount.
What Next? Post Insulation Removal Measures
Cleaning Up After Insulation Removal
Once the old insulation's out, it's time to clean up like a pro.
Wet/dry or HEPA vacuum out any lingering dust or particles.
Spray disinfectant for a deep clean.
Wipe down all surfaces with a damp cloth.
Bag all the disposable protective gear and throw it away safely.
Queue shower time – you've earned it!
Doing a thorough cleanup ensures your new insulation has a clean slate to start with. [Important note: Old insulation and gear are fire hazards! Dispose of them responsibly.]
When and How to Install New Insulation
After cleaning up post your insulation eviction, it's time for the new star – fresh insulation!
What's the right time to install? ASAP is your best bet. Delay could compromise your home's temperature control, leading to higher energy costs.
As for the 'How', it depends on the insulation type. Something like blown-in insulation requires a professional blower. Batt insulation, on the other hand, is a simple unroll and place job.
When in doubt, call in a professional. They can assess your situation and offer the best solution tailored to your needs.
[Case study: Below are images depicting toxic cellulose insulation (brown/grey paper insulation) that was installed by a recently new franchise company in a homeowner's attic. The homeowner became so sick from the material that he had to move out of his home. After trying to reach this new insulation company for several days and receiving no call backs, they reluctantly agreed to remove the chemical insulation. However, they did a very poor job and mainly just blew new insulation over the cellulose insulation. Due to their inadequate removal process, the homeowner was still unable to live in his home.
We stepped in and removed all the insulation, sanitized the entire attic, air sealed the attic floor, and adjusted the attic air pressure to ensure it wouldn't be drawn into the living space. After completing these steps, we insulated the home with chemical-free insulation so the homeowner could finally move back in.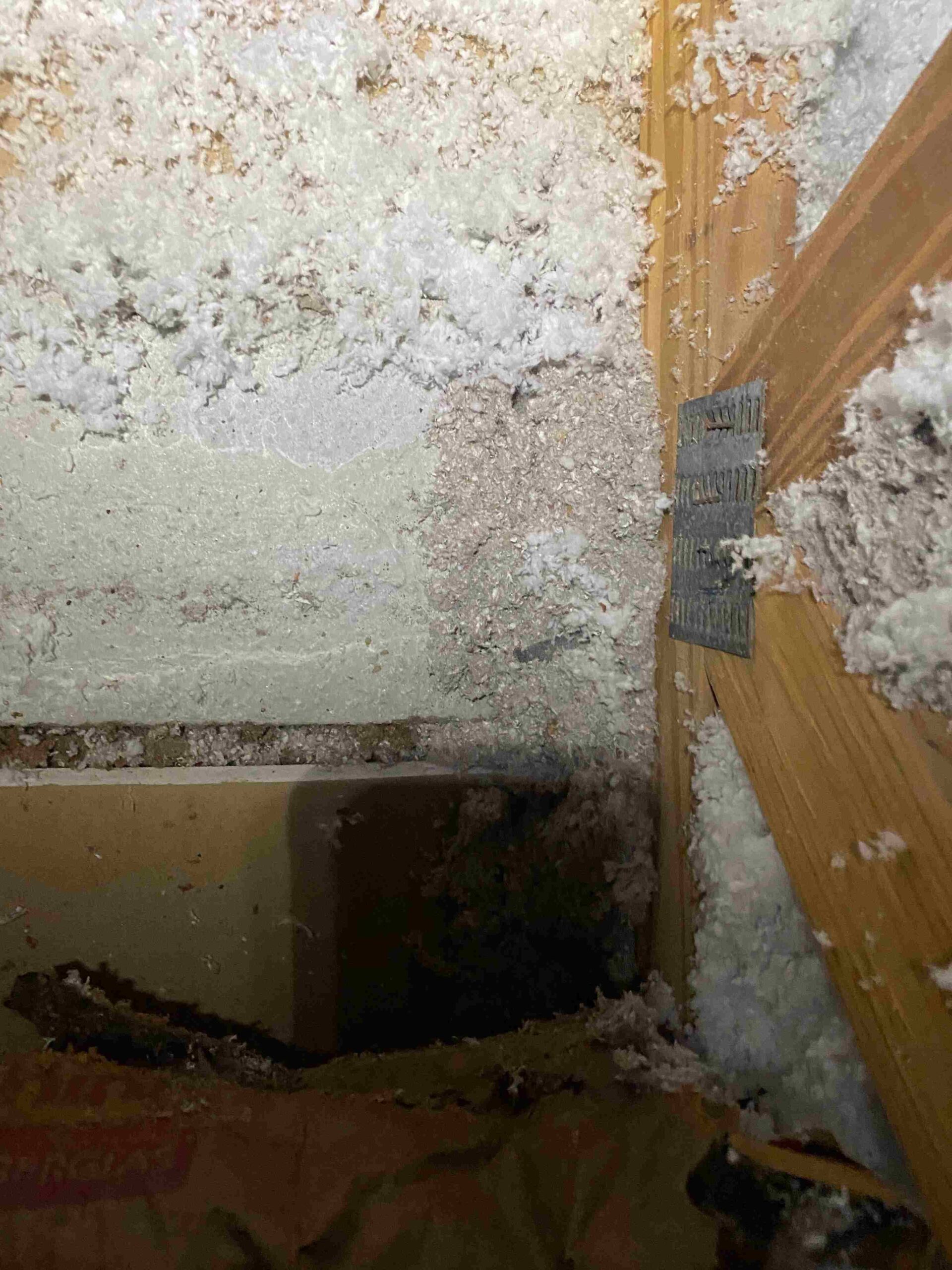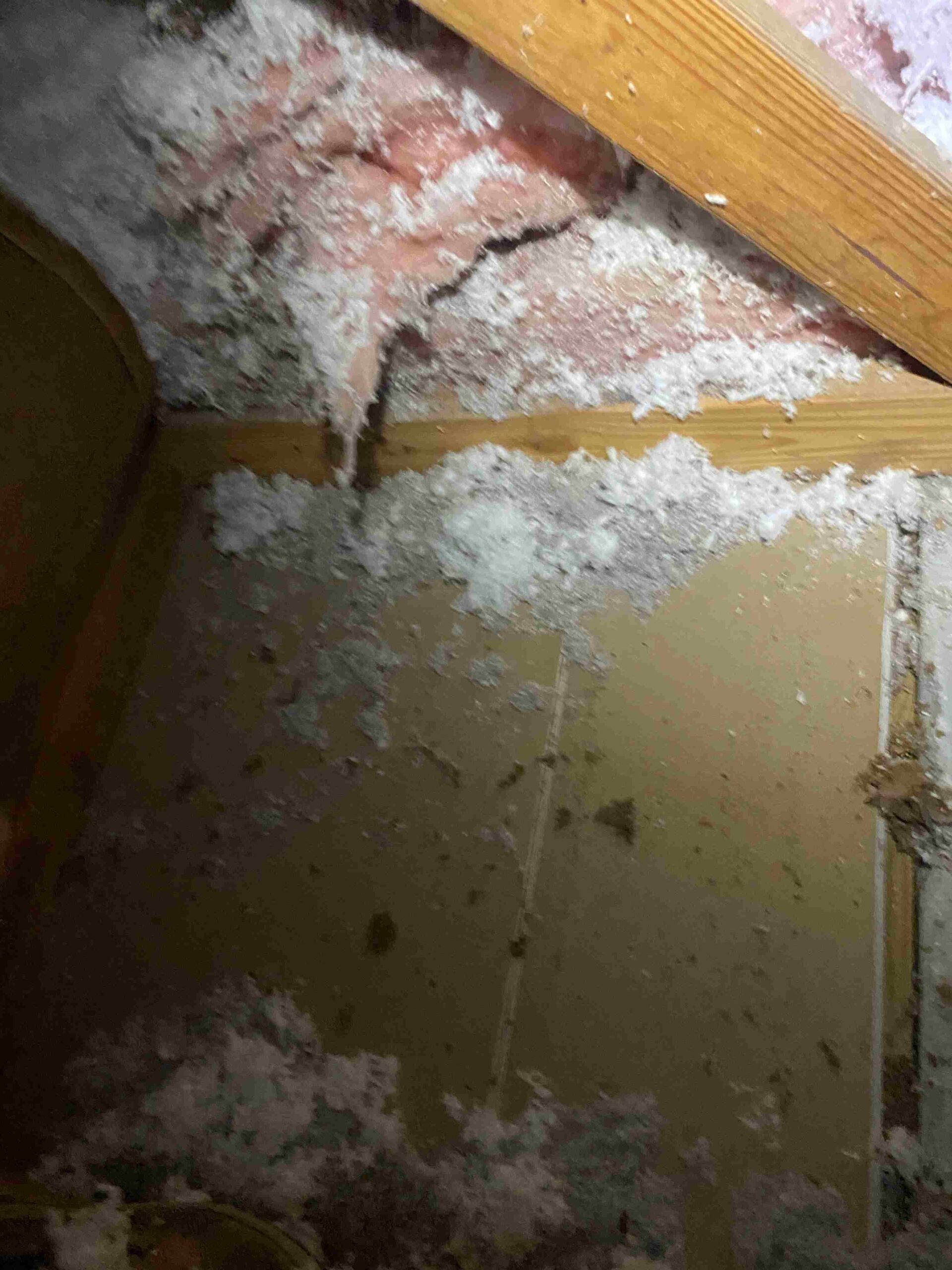 After discovering faulty insulation, one of our customers was forced to vacate their homes. However, we remedied the situation by removing the previously installed insulation from another company and successfully facilitated the return of our customers to their residences. ["You gave me my life back" – Customer – Stuart, FL]
Cost Implications of Attic Insulation Removal
How much does Insulation Removal cost?
How much does insulation removal cost? The magic number can be around $2,500 on average. The range typically falls between $1,000 and $4,000, depending on the complexity and size of the project.
Tackling a 1,500-square-foot attic? You may be looking at anywhere from $2,000 to $3,000. But DIY can trim down that cost to roughly $1,000 to $1,500. Remember, a thorough approach can save you a pretty penny.
The best way to estimate your attic insulation removal cost is to call in a professional for an accurate quotation. They'll evaluate the type of insulation, the extent of contamination, the ease of access, and your local labor rates.
Factors that Influence the Cost of Insulation Removal
Wondering what drives insulation removal costs up or down?
Attic Square Foot Size: Bigger the attic, the higher the price.
Insulation Type: Blown-in insulation is tougher to remove than batts, hence pricier.
Encapsulation: Moldy or hazardous insulation could require encapsulation or sealing, which costs extra.
Accessibility: Easy access attics generally save you money as opposed to cramped spaces. (can we stand or do we have to crawl?)
Local Rates: Your geographic location can impact the labor costs involved.
Your specific quote will give you the right number. Always request for a detailed breakdown.
DIY vs. Hiring a Pro: Making the Choice
Risks and Challenges of DIY Insulation Removal
Thinking of donning the DIY superhero cape for insulation removal? Beware, it comes with risks.
Health hazards: Unprotected exposure to insulation can lead to respiratory issues or harmful infections.
Mistaken materials: You could unknowingly mess with asbestos or mold, endangering your health.
Incomplete removal: Bits of insulation could be left behind, reducing the effectiveness of new insulation.
Accidental damage: DIYers might accidentally tread on the wrong spot, triggering a ceiling collapse.
Long story short? When in doubt, opt for safety over savings! [Statistic: According to the National Safety Council (NSC) there are over 200,000 DIYer accidents per year.]
Advantages of Hiring a Professional Service
Why hire us for insulation removal? Here's why:
We say YES to safety: We take precautions to heart, keeping mishaps at bay.
Trained eyes: We'll spot and handle hazardous materials with skill and care.
Comprehensive cleanup: Our team leaves nothing behind. No hint of old insulation, no mess at all!
Efficient installation: We know insulation in and out. When we install the new, it's done with expertise for optimal results.
Time saved: Say goodbye to days of DIY struggle. We'll have it done before you know it.
So give yourself the gift of peace, safety, and efficiency.
["All Thermo was very professional, and a great company to work with. In particular, they were prompt and met all of our expectations with our insulation project. They removed our old insulation, sanitized, and air seal before installing fresh insulation. Equally important, they kept the work area clean." – Leanna L. – West Palm Beach, FL]
Contact Us Today!
Schedule Your Free Insulation Evaluation
Keen on a hassle-free insulation evaluation? We've got it covered. Just call us on 602-499-2922 or click [here] to schedule an attic inspection. Trust us to give you the rundown on what's needed for your home. No hidden costs, only honest work.
[I'm the type of person that researches companies and asks tons of questions before making a decision to use them. I would highly recommend All Thermo!!! From the quoting process to the end of installation they were attentive, extremely professional and knowledgeable. If I could give another star, I would!!! – Mark C. – West Palm Beach, FL ]
Get an Instant Quote for Insulation Removal Services
Ready to wave old insulation goodbye? Get an instant quote now! Just provide your name, phone number, zip, and services needed on our website or call us at 561-842-3336. We ensure quick, quality service that fits your budget.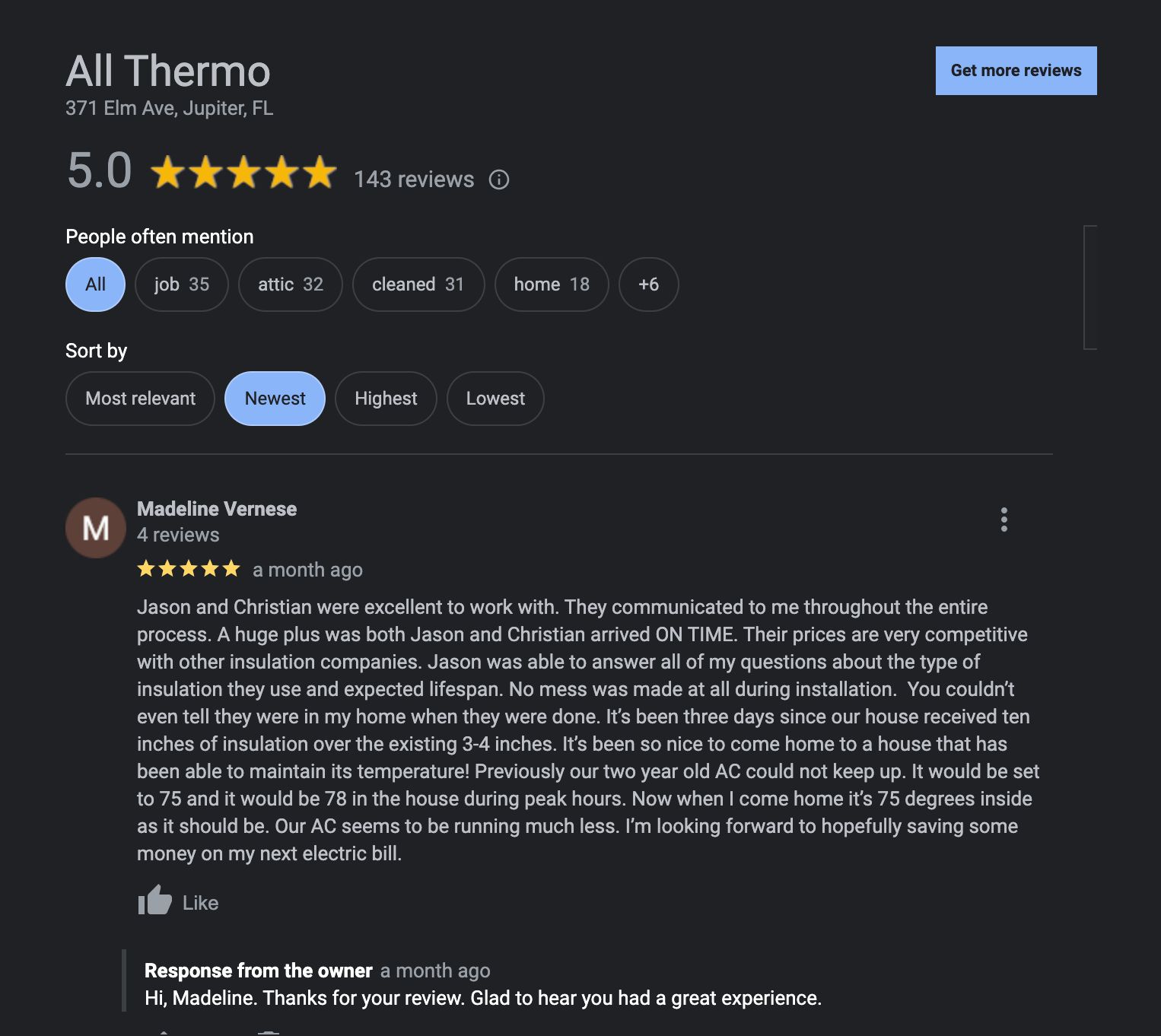 With All Thermo Insulation, getting your attic clean and energy-efficient has never been simpler.
Frequently Asked Questions (FAQs)
How long does Insulation Removal Take?
Typically, a well-equipped professional team takes about 4-6 hours to remove attic insulation from an approximately 1,500 square feet space. If you're into DIY, this can range anywhere between 2-3 days, depending on attic conditions and your pace. It's best to plan for removal over several days or even weekends to ensure a thorough job.
Does All Old Insulation Require Removal?
Nope, not all old insulation warrants removal. If your attic insulation is still effective and isn't contaminated by mold, water, or pests, you can often leave it be. Sometimes, adding new insulation on top of the old is all you need for a cozy, energy-efficient home. However, it's always wise to get a professional opinion to be sure. Safety first, costs second.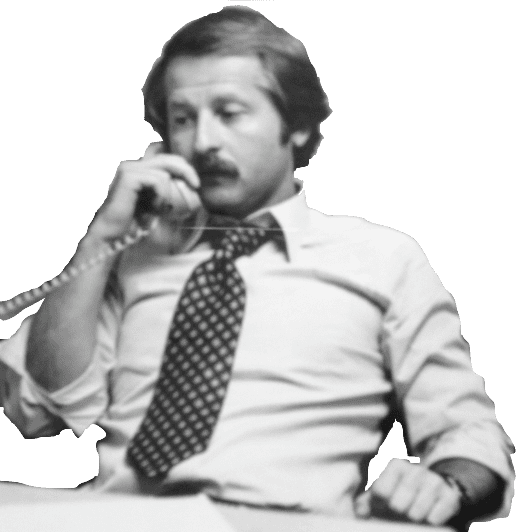 Our family. Taking care of yours for over 50 years.
Attic Cleaning and Sanitation
Follow Us on Facebook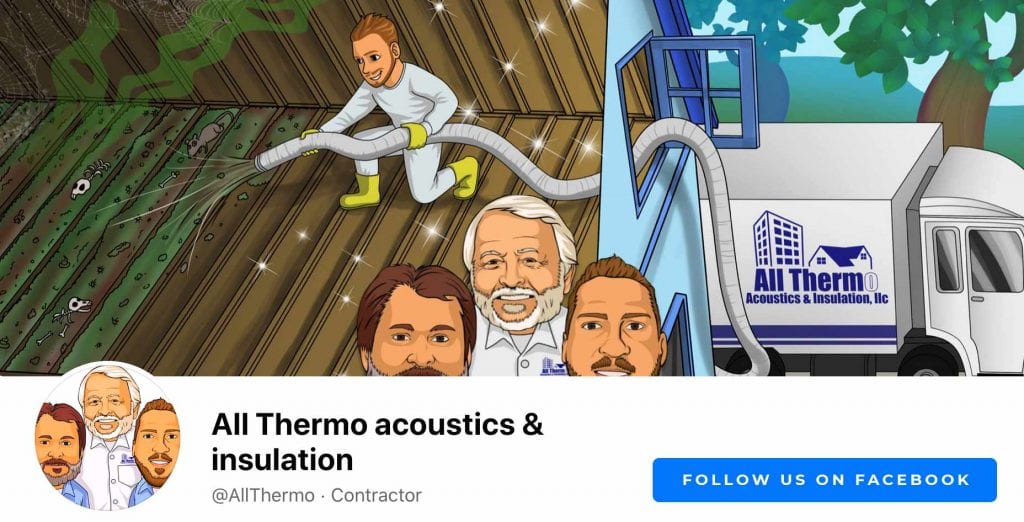 105+ Years of Combine Experience!