The #1 Rated Insulation Company in South Florida
All Thermo - Acoustics
& Insulation Company

Verified
Very professional. Quality equipment and materials. Showed up on time and communicated any delays promptly. Provided in person on site estimate free of charge. Many others wanted $79 for estimate. Thorough check of lights, etc before and after job. Promised to mail before and after photos. Job includes free follow up for 1 year.
Matthew Scurry
2021-01-21
Verified
Very professional! In and out like they were never there. Electric bill this summer was as low as its ever been.
Verified
The All Thermo team were extremely professional both during our initial meeting, discussing our quote, and during the job. The crew was very polite while working in our home and they did an excellent job protecting the area that they were were in and using for access. At the end of each day they cleaned up and we could not tell that they had been there. If you are looking to have insulation added to your home I would 110% recommend All Thermo.
Verified
This company is top notch. Within an hour of my call to get a quote, Jason,one of the owners, drove to my house and did an inspection. He had room in the schedule and the work was done a few days later. The crew was very professional and respectful of my house. Christian, one of the owners, checked on the progress throughout the job, updating me with pictures of my attic and explaining every step. I am thrilled to have an expertly cleaned, sanitized and thoroughly insulated attic now. I would highly recommend this company!
Eraldo Gonzalez
2020-12-04
Verified
Verified
Quick Summary:  10 out of 10; Professional; Excellent work; Completed as promised; on-time; Left job site clean; Very friendly and willing to explain the job; Family owned.  If you feel like reading more, here are the details: We had issues with sweating AC ducts and decided it was time to replace the cellulose insulation.  Jason took the time to explain our options and described the entire process.  Christian and his team completed the job at our house.  They showed up on-time on the scheduled day and started the work.  They put up plastic along the route to the attic access to keep things clean.  They spent two days removing the cellulose, cleaning the attic and sealing all the drywall penetrations exactly as promised in the estimate.  Once the cellulose was removed we were able to have our contractor replace the drywall that had been damaged by the sweating ducts.  We also took the opportunity to replace the exhaust fans in both of our bathrooms.  When Christian and the team returned they sealed around the new fans and the new drywall and did a final round of cleaning.  They put mastic on all the AC duct joints and distribution boxes.  Then they installed the bats (in some locations) and blew in the new insulation.  We are really looking forward to the improved air quality, increased energy efficiency and elimination of the duct sweating issue.  Jason and Christian and the entire team at All Thermo are awesome.  We highly recommend these guys if you have any insulation needs.
PDR360 Paintless Dent Removal
2020-11-17
Verified
Scooter was awesome and so easy to deal with. On time and on point with everything. Definitely will recommend this company. Love dealing with serious local businesses.
Verified
Wonderful company. Absolute pleasure to work with. They are professional, honest, reliable and clean. They really go the extra mile to take care of everything. Also, everyone wore facemasks for anyone worried about doing work in their homes.
Joanne Prescott
2020-10-06
Verified
Christian and Jason were awesome to work with! They were honest, showed up when they said they would and did great work! I would highly recommend All Thermo!
Verified
I wouldn't consider anyone else after using these guys. They're professional, thorough, honest and affordable. If you want someone who isn't going to cut corners and do the job right the first time, call these folks.
Professional Insulation & Attic Cleaning Services
All Thermo is the highest rated Attic Cleaning, Insulation Removal, Air Duct Work Replacement and Attic Insulation company in the West Palm Beach & Palm Beach County areas! By using natural applications and the finest insulation products available. We are a 2nd generation, family owned & operated company serving South Florida and the surrounding areas for over 40 years. One of our family members is on every job, call us today for your Free Quote, a family member is standing by.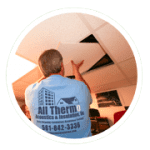 Acoustical Ceilings, also referred to as acoustic ceilings, drop ceilings, grid ceilings, suspended ceilings, and tile ceilings, are the most practical and efficient ceiling system for commercial environments of all kinds.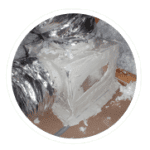 We test air ducts thoroughly for leaks and make all necessary repairs or replacements. Then we add our attic insulation to create the perfect insulation barrier.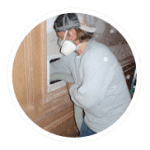 Insulation can help make your home quieter by absorbing sound as it travels. All of our sound control insulation is rated for sound control and can significantly reduce sound transmission from appliances, TVs, stereos and ventilation systems.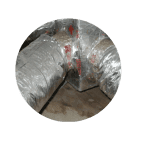 Our family. Taking care of yours for over 40 years.
Our family business has deep roots in South Florida. Our dad Jim started working in the insulation industry in the early 1970s and in 1979, started his own company in Palm Beach County. Working with homeowners and business for over 40 years has equipped us with the knowledge and expertise necessary to tackle the unique challenges posed by South Florida's harsh tropical climate.  
Our dad started teaching us work ethic at a young age. He put us to work as teenagers and has passed down his knowledge over the last two decades. Now in our 30's and 40's, we are running the company together with dad and are the leaders in our industry. With 99 years of combined experience, we are ready to tackle any challenge with perseverance, family values, and hard work.